Ultrasound Guided Fine Needle Aspiration (FNA) Biopsies
Gainesville's top endocrinologists work together to diagnose and treat thyroid disorders with pinpoint accuracy using the latest ultrasound technology. An ultrasound-guided fine needle aspiration biopsy uses sound waves to help locate a nodule or abnormality within the thyroid and remove a tissue sample for examination under a microscope. The procedure is less invasive than surgical biopsy, leaves little to no scarring and does not involve exposure to ionizing radiation.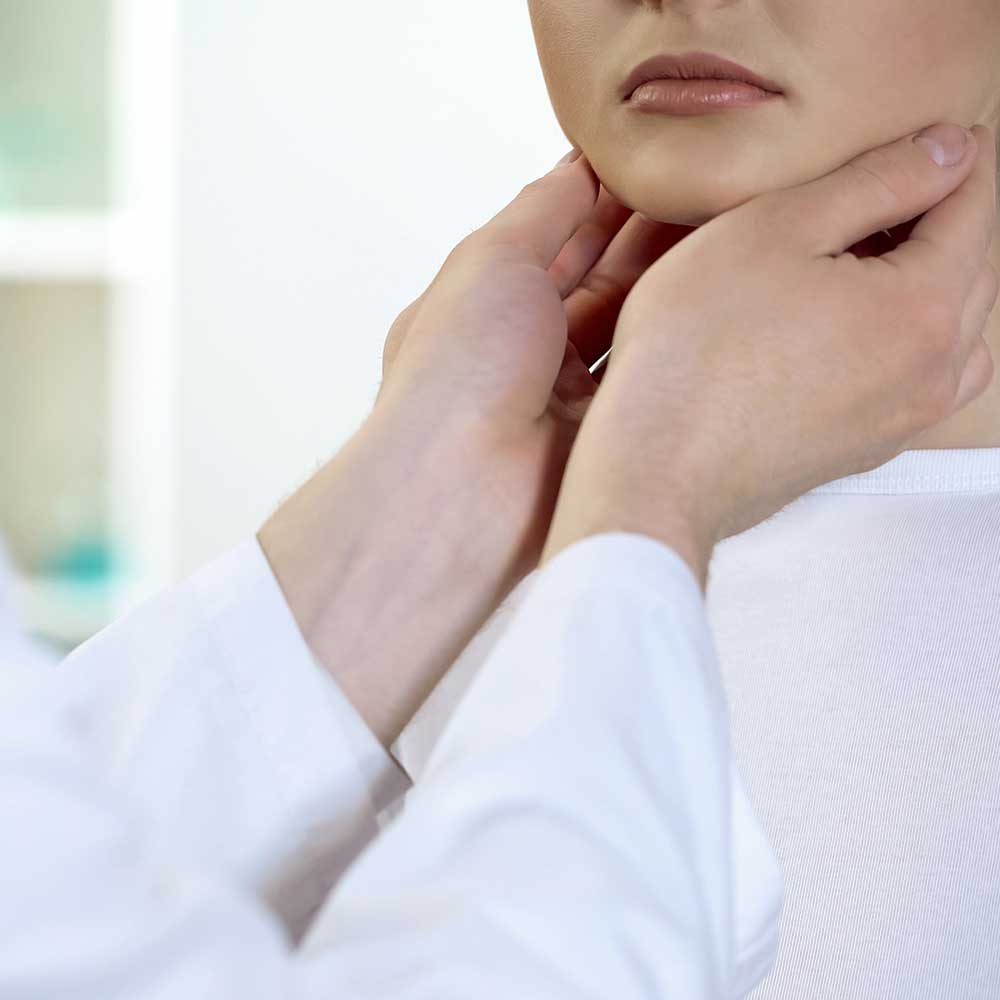 Dealing with thyroid cancer can put your life on hold. It may start as only a small discomfort or inconvenience, but if gone untreated, the cancer can cause permanent and lasting pain and overall diminishing in your quality of life. Some of the symptoms of cancer in the thyroid include:
Fine needle aspiration (FNA) biopsy is a diagnostic procedure used to evaluate thyroid nodules and lymph nodes in the neck to check for lumps, masses, or other signs of thyroid cancer. An FNA biopsy is safer and less invasive than open surgical biopsies, which is why it is a common technique doctors use to investigate and diagnose thyroid diseases and disorders.
First, a small needle is inserted just under the skin – guided by ultrasound imaging, it extracts a sampling of cells from the target nodule. These cells are then evaluated for cancerous tissue.
The needle used in an FNA biopsy is much thinner than the ones used to draw blood, so anesthesia is typically not needed, which means there is very little down time. Also, there are no special preparations (no fasting) or restrictions following the procedure, and patients can return to their normal activities immediately following the biopsy.
Receiving FNA Diagnosing from Accent Endocrinology
At Accent Endocrinology, we understand that the faster and more accurate diagnosing takes place, the quicker the problem can be treated and you can get back to your life. This is where ultrasound technology comes into play.
Our experienced endocrinologists can pinpoint the exact area where the problem is coming from and retrieve the cells for a close scrutiny. No downtime, no surgery.
And after you receive an FNA biopsy, the cells can then be studied and diagnosed right at our Gainesville Thyroid Center by a team of specialized doctors. The results are typically available within a week of the biopsy, and you, along with an Accent endocrinologist, can begin planning treatment strategies right away.
Schedule an appointment for an ultrasound guided FNA biopsy today to begin the process of diagnoses, treatment, and recovery from thyroid cancer.
If you have any questions or comments, or if you want to learn more about the services we provide, please call us at (352) 372-9414. To schedule a consultation with one of our experienced doctors, contact us today!
Accent Endocrinology | 4340 Newberry Road, Suite 301 | Gainesville, FL 32607 | Map | Tel: (352) 372-9414